Wenn ein ausländisches Label einen deutschen Namen hat, und noch dazu ein Label aus Kopenhagen, dem Epizentrum des guten Geschmacks, dann fühlt man sich schon etwas geehrt. Unvorstellbar, dass wir Deutsche aus dem Ausland betrachtet nicht nur mit Bier und Wurst, sondern auch mit Coolness verbunden werden. Baum und Pferdgarten ist aber nicht nur eine Liebeserklärung an das Nachbarland, sondern auch ein Zusammenschluss der Namen des Designerduos: Rikke Baumgarten und Helle Hestehave, zu deutsch Pferdgarten, gründeten 1999 ihr Klamottenlabel. Wir sind spätestens seit dem letzten Pressday verliebt und freuen uns schon sehr auf die nächste Kollektion, die wir diesen August sogar live begutachten können, denn wir werden zum ersten Mal die Kopenhagener Fashion-Week-Luft schnuppern. Letzte Woche haben wir Rikke Baumgarten schonmal in München getroffen und mit ihr bei 35 Grad im schattigen Hofgarten bei Holunderschorle über Kopenhagen, Mode, Kunst und das Label geplaudert.
Let's start with the development of your career – who are you, where did you two meet, how, when and why did you found Baum und Pferdgarten?
My name is Rikke Baumgarten, and I'm one of the founders of Baum and Pferdgarten. My Partner is Helle Hestehave, and we met in Kopenhagen at the Royal Art/Design School. Actually, the first time I saw Helle was when we attended the test to get into the school – none of us got in. So we met the next year, and we actually got in. I noticed her because I knew her from the last year. We got quite good friends at school and after school we just agreed that it could be fun to do something together. I guess we were quite interested in each other because we were that different – Helle is – very squared told – into straight, masculine forms and I'm the opposite. And in that combination we had a lot of fun, we both really enjoyed this eclectic mix. We already did some projects in school together and were quite surprised that it worked out that well. That's actually the whole DNA and ground of Baum and Pferdgartens philosophy, we are very interested in a quite different design- and form-language, but when we put it together we do something new that none of us could have ever done by himself.
Why did you pick a german name when you founded your brand in 1999?
When we went to school, we had to do a project and so we opened a small shop with a really, really bad name. We called it "Haute Couture – ganz modern", because we just loved the german language. I don't know why. We spoke a lot of german those years. This german thing just stayed around us. There was kind of a german wave in Kopenhagen at this time, there were so many stores and bands and we just wanted to have a german name for our label. We talked about the name at a holiday and it came quite naturally!
Who is the typical customer of Baum and Pferdgarten?
I guess at first, you are interested in art and design. We are a very colourful brand, so you must love to be kind of flashy and to be noticed. You are in love with the eclectic part of life where you combine a lot of different ways of living and looking. We are not a brand only doing classical stuff or only doing the opposite, we are quite based on putting different themes together. You have to be a bit occupied and in love with that idea if you buy Baum and Pferdgarten.
Now we have our own store in Kopenhagen and sometimes a mother and her grown up daughter both come to the store and both buy something. I really love that. The average age of our customers however is 30+, also because of the price. But we are doing our best to get also the young girls to buy. It's important for us that the young girls like it, too.
Does a typical scandivanian style exist, what is typical scandinavian in your opinion?
If we talk about in general I think scandinavian design has a quite minimalistiv aesthetic. The danes and also the swedish are quite famous for their furniture and decorative art. I think that the danes are very interested in quality and that things last. We have that carpenter-tradition, which is transferred also into fashion. Danes would never make a piece which doesn't have a lasting moment – in design and material. But at the same time, it has to be affordable for many people – that's a scandinavian issue, to have really good design for reasonable money, and that's a good tradition!
Can you describe your fashion and are there any parts of the Baum and Pferdgarten designs which are typical scandinavian?
Baum is much about print, colours and the collaboration of both. But the DNA of Baum are two worlds that we try to melt. Because if you don't melt them, they are too recognisable. We like this idea that you look at something and you are like "uh, what is that, ah it's, no it's not, but it's coming from, but – no it's not". This thing, that you make people look one minute more and get their own ideas of where it comes from. That idea has followed us since we started the company. So we like to combine different prints together and strange colour combinations. We are very occupied of art, especially when we start a new collection. For example our Spring/Summer 2014 collection is influenced by a danish artist called Vilhelm Lundstrøm, a danish modernist, very colourful, cubistic, extraordinary – very inspiring for us and our collection. And besides this, there's a lot of leopard!! We love leopard, it's following us. In the last collection, there were dark blue and green leopard items.
We liked the light pink coat of your last collection a lot – which one is your favourite item?
It's a sporty complete outfit: blue leggings with white stripes, blue peplum shirt with white inserts – very sporty, but very chic. I also love our pink oversized mohair sweaters. We were very inspired by 50ies skiing women. We had this skiing theme and the chinese movie "Mood for Love" – you should definitely see that movie! It's so melancholic, fashionable and stunning, and Maggie Cheung is so beautiful. So these were the two themes for our winter collection.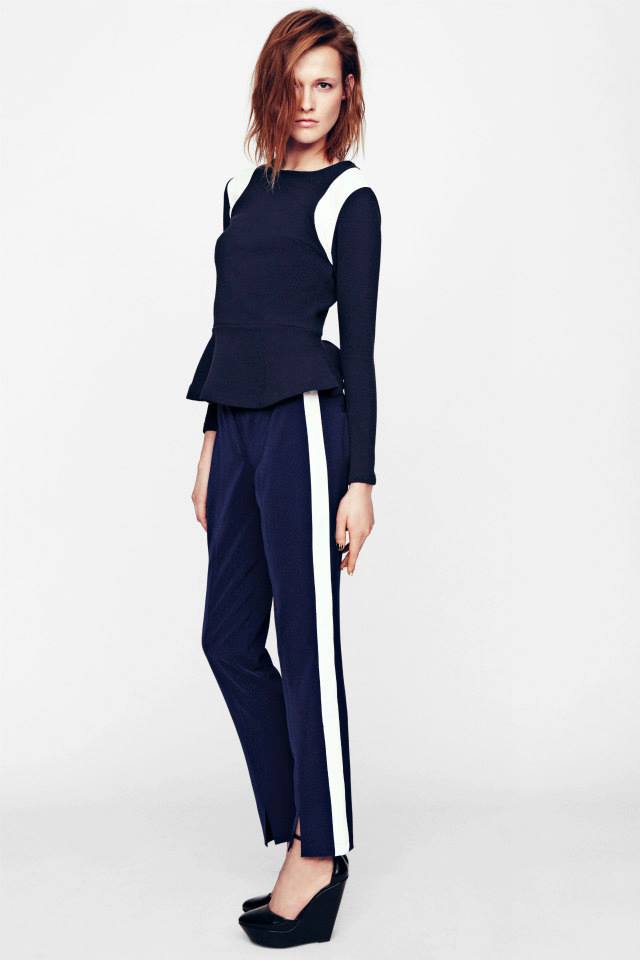 What about your personal style – can you describe it, do you have some favourite labels?
I have many favourite labels. I really like Acne, they are quite crazy and still very classical and it is easy to wear. I love No. 21. I'm in love with a lot of brands! My personal style is very much influenced by this eclectic way of living. Today I am really classic in a black dress, but I could also have been here in a full-print-tadaa-dress! I love fully printed items, the next collection will be really fully printed.
That's our next question actually – we are curious to see your new collection in august, so what can we expect?
You can expect a lot of leopard, but in different ways – sequences, prints, knittings. Then you can expect a lot of orange and other colours in blocks. We like to do the show in the really spectacular and beautiful garden of the National Art Gallery in the center of Kopenhagen.
We are very happy to visit Kopenhagen Fashion Week for the first time this year. We think that it is one of the most exciting fashion weeks in Europe. You are from Kopenhagen, so how do you think about it? How do you compare Kopenhagen to Stockholm, Berlin or the big ones?
I'm not so familiar with the Berlin Fashion Week, more with the faires. But I think we should do a nordic fashion week – Stockholm, Oslo, Kopenhagen and whoever else from Scandinavia should be put together, that could really strenghten the nordic fashion weeks. I think in a way Kopenhagen is a quite unique small fair, where as I said you can get a lot of good designs for a reasonable money. But it is nothing compared to Milan or Paris, it is something completely different.
Would you like to show your collection somewhere else?
If you are in that league that you can decide where to show, you should definitely consider Paris or Milan. For our league it is very suitable to show in Kopenhagen, it is small and I like the idea to be loyal to where I am born and to where I come from, to be loyal to our clients. Everything is happening on the internet today anyway.
Could you tell us some of your favourite spots for eating, shopping or dancing in Kopenhagen?
For eating you are in a Mekka! You can get so much wonderful food. You should definately go to Vesterbro, there are so many bars and clubs. The old meatpacking district in Vesterbro has completely changed into galleries, clubs and bars and it's supercool. There are a lot of great restaurants which are not that expensive. I think you will love it there, step from bar to bar, there are so many great looking boys and girls in this area. It is called Kødbyen, which is called Meatpacking District. It is in Vesterbro but right next to the central station.
In the area which is called city, there are many very nice small multibrand shops, besides our Baum und Pferdgarten shop of course. There are many very nice furniture stores like for example Hay, the big main store is on the walking street. You definately should save some money for your trip to Kopenhagen! And if you have time, you should consider one day go up north outside of the city and visit Louisiana, it's a beautiful art museum, located near the beach with really great modern art.
Baum und Pferdgarten findet ihr übrigens auch hier bei Asos.
Facebook // Bloglovin // Instagram // Twitter